AVENGERS REBORN CAPTAIN AMERICA FINE ART STATUE
---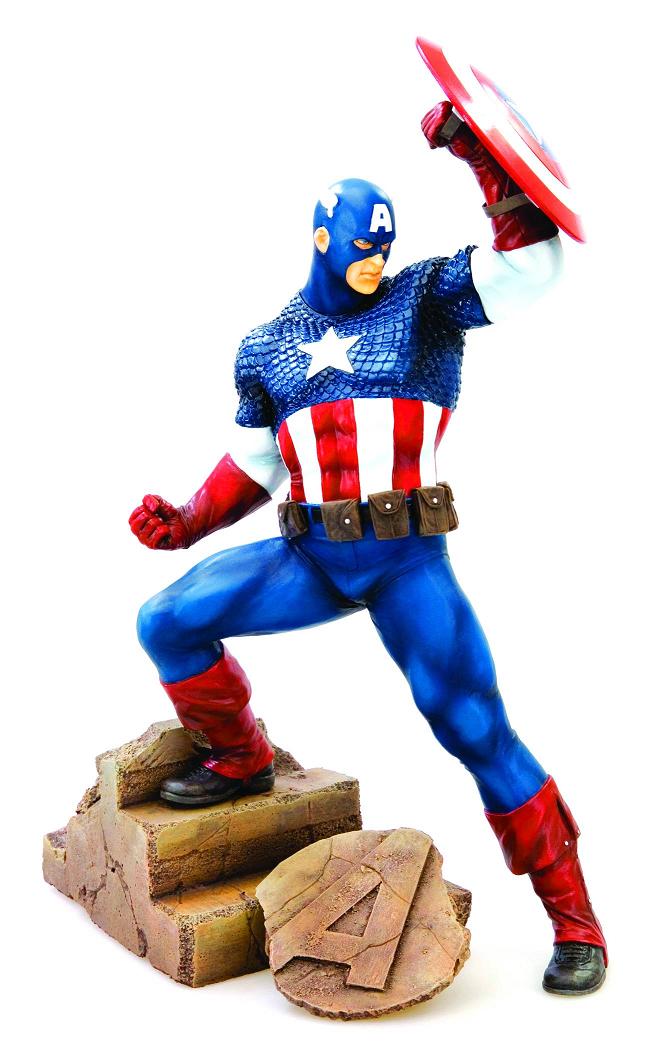 A KOTOBUKIYA Japanese import! Created in 1941 by Joe Simon and Jack Kirby to represent opposition to Nazi Germany, CAPTAIN AMERICA combined superhero stories with patriotism and the fight against oppression in the world. From humble beginnings as a physically weak young man, Steve Rogers attempted to join the United States military service to combat the threat in Europe. Recruited into a secret "Super-Soldier" program, Rogers was given a serum and radiation that transformed him into a paragon of human athleticism. With a red, white, and blue costume and special aerodynamic shield, Captain America burst onto the superhero scene. Throughout his illustrious career Rogers would team up with other heroes and fight alongside the Avengers on multiple occasions. Though he was thought dead at the end of the Civil War storyline, the original Captain America was displaced in time and is destined to return as a member of the Avengers Reborn with Thor and Iron Man!The patriotic American super soldier stands triumphant on the field of battle, a bastion of freedom and democracy standing firm while raising his iconic shield over his head. His uniform and signature look are recreated down to the last detail, with special emphasis paid to the sculpting of Captain America's impressive musculature and the scales of his armored shirt. Cap's classic look is comprised of vivid red, white, and blue, with subtler accents of facial skin tone, and dark leather boots and belt pouches with metallic fasteners. You can display Captain America in two different ways according to your preferences, utilizing either of his included heads: the traditional winged look and World War II D-Day helmet variant!

Captain America stands approximately 12 1/2" inches tall (1/6th-scale), with one foot on a rocky stone base decorated with the classic Avengers "A" logo. The deluxe motif base connects to those of the other members of the Avengers Reborn series, Thor and Iron Man. Sculpted by master artist Junnosuke Abe, Captain America is constructed of high-quality cold cast porcelain and is a limited, numbered edition.
This product has been viewed 76 time(s).
You must be logged in to rate.

There are currently no comments.
You must be logged in to add a comment.
Start of page